Below are some simple ideas to easily transform your house for the spring season or the holiday.
Lauren Dunec Hoang 4/7/17 for Houzz
This time of year can be a great time for a fresh start, whether you're getting ready for Easter or you just fancy a home refresh for spring. Here are 10 ideas for simple decorations and easy organization strategies to get you in the spring spirit.
Crowell + Co. Interiors
1. Spread fresh flowers around the house. Split a large mixed bouquet into many smaller bouquets to have flowers in multiple rooms. Reserve flowering branches and long-stemmed blooms for a large vase for your dining table, and place nosegays on side tables and in bathrooms. Not enough vases? Repurpose jars, drinking glasses and teacups, or float blooms in a low bowl filled with water.

How to Create a Flower Bouquet Like a Pro
Dcasa Ltd
2. Put fragrant blooms by your bedside. Waking up to the scent of fresh spring flowers is a delight. Place a few hyacinth or narcissus stems by your bedside table or in your bedroom window, and their clean, citrusy fragrance will perfume the room.

Hyacinths and paperwhites too strong-smelling for you? Use a single sprig of daphne or Korean spice viburnum, a few stems of roses or a cluster of sweet peas instead.
L. Weatherbee Design Studio
tesa SE – International
3. Give home accessories a spring refresh. Pull any spring-themed home accessories out of storage and place them around the home. To give smaller items more impact — and to keep areas from looking cluttered — group them in defined spaces such as on a mantel or tray.

Give existing home accessories a spring refresh by removing them from tables, sideboards and bookshelves and — after cleaning the space — putting back only the ones that feel spring-like. You may find you prefer the clean look of surfaces that have fewer things on them.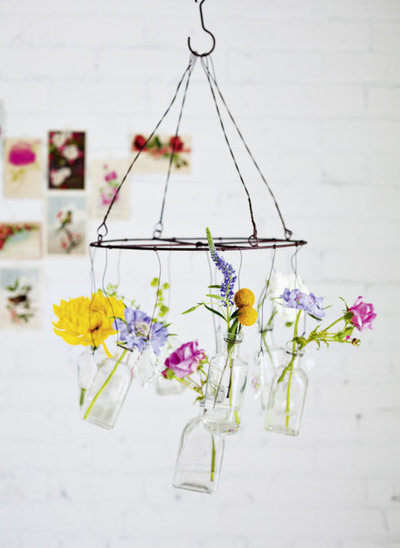 Callwey
4. Feeling creative? Make a flower chandelier. Repurpose a metal wreath frame into a hanging flower centerpiece. Use flexible wire (available from craft stores) to attach glass vases, jars or metal cans wrapped with paper to a metal wreath frame. Attach the vases or jars at different levels to accommodate flower stems of various lengths. Wire the wreath frame to a metal S-hook and hang it above the kitchen table.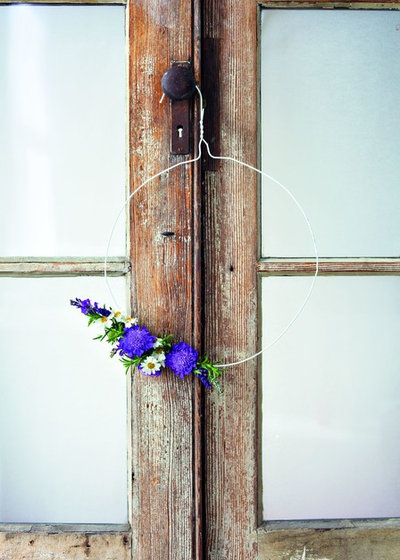 Callwey
5. Create a spring wreath out of a shirt hanger. Make a minimalist wreath by bending a metal shirt hanger into a circle and securing flowers or foliage with floral tape to partially or fully cover the hoop. Fresh flowers will last only a few hours without wilting; instead, use foliage or dried blooms.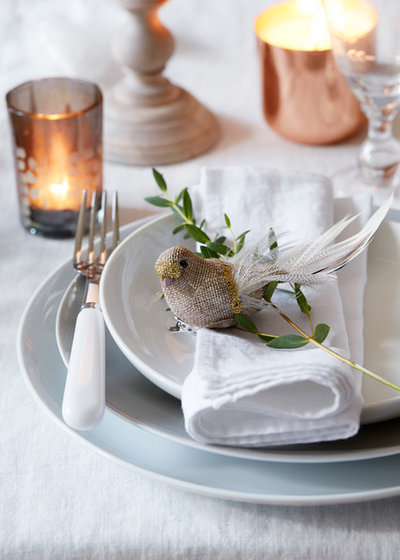 Houseology
6. Set your Easter table early. If you're hosting friends and family for an Easter meal, get out linens, cutlery, special china — if you use it — and glassware now so you don't need to worry about it later. Wash and iron tablecloths and note any missing plates or glasses to replace. Pick up a few table toppers or, on the day of, cut an herb sprig from the garden to use at each place setting.

Houzz Guide: How to Set a Table
Cozy Little House
7. Put together an Easter egg decorating station. Assemble your Easter egg decorating supplies on a side table under a wax tablecloth (to prevent dyes from staining wood or seeping into marble). To make classic dip-dyed eggs, you'll need hard-boiled eggs, bowls deep enough to submerge an egg in, food coloring, vinegar, tongs or egg dippers and drying racks. Have Easter dinner guests decorate eggs or make them ahead of time.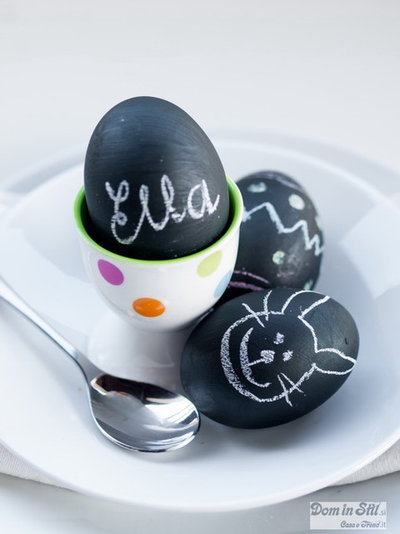 Pullga
Looking for more creative eggs this year? Pick up extra things, like:

Chalkboard paint. Paint eggs with chalkboard paint for a dark, erasable decorating surface.
Botanical-themed decals. After allowing dyed eggs to fully dry, apply one or more botanical decals (or temporary tattoos) of birds, leaves, insects or feathers to the surfaces to make a vignette.
Gold spray paint. Add shine to dip-dyed eggs by covering a portion of the egg with gold spray paint, allowing the dye colors to show through on other areas.
Susie Watson Designs
8. Move a table outside for a garden party. If you're hosting an Easter egg hunt or just want to enjoy being outside in the spring garden, pull a table and chairs outside to an enticing spot in your backyard. While the kids are busy finding eggs, the adults can relax and enjoy drinks or appetizers in the shade. Add a fresh tablecloth, cushy pillows and blankets to throw over your shoulders in case it gets chilly, to make the space even more inviting.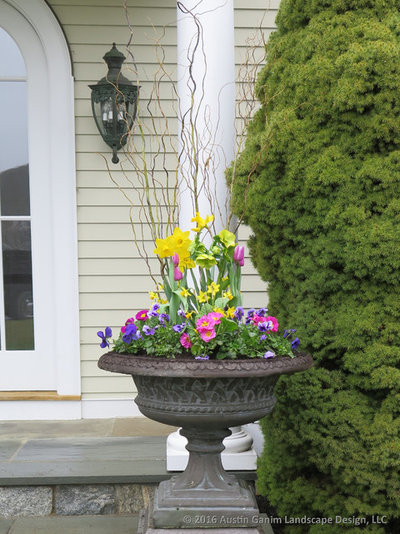 Austin Ganim Landscape Design, LLC
9. Plant one high-impact container by your front door. If you have time, fill one container to the brim with spring flowers to immediately brighten up your entryway. Potted narcissus, primroses, violas and nemesia are plentiful in nurseries this time of year.

12 Stunning Spring Container Gardens
Ryland Peters & Small | CICO Books
Conversely, avoid dealing with potting soil altogether, and fill a container with potted blooms. Just sink pots of flowering plants into an empty container. If the plant's leaves don't hide the rims of the nursery containers, cover with mulch or sheets of moss.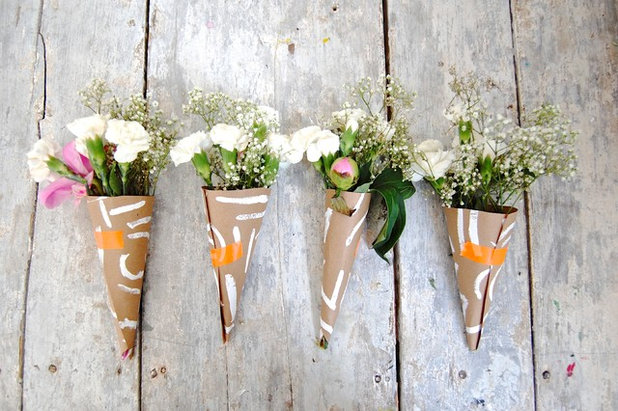 Corynne Pless
10. Have kids coming over for Easter? Put them to work making favors. Making simple floral cones is a great hands-on afternoon activity to keep kids busy after the egg hunt. To prep now, purchase a roll of craft paper, some washi tape or regular clear tape, and colorful pens for decorating the cones. To add handles to the floral cones for easy carrying, set out your hole punch and a ball of twine.

On the day of, pick up a bunch of flowers for the kids to arrange in their paper vases. Baby's breath, seeded eucalyptus and tea tree (Leptospermum spp.) will last for days without water and are also pretty as dried flowers.