Looking for inspiration for your kitchen design? Find some inspiring ideas and photos in this article.
Reprinted from Houzz
Movies and TV shows set in professional kitchens often make them seem like wonderful places in which to spend time. Think of the excitement and camaraderie on Bravo's Top Chef, the cozy feeling in the kitchen where Abigail Breslin eats a bowl of spaghetti in No Reservations and the romance that's cooking in Lasse Hallström's The Hundred-Foot Journey.

Restaurants have picked up on this appeal — have you noticed how many of them have opened a view into the kitchen? Some of my favorites have a barlike setup between the kitchen action and the dining area. In these kinds of eateries, we get to feel as if we're sitting at the chef's table.

That could be one reason why professional kitchen elements have established themselves firmly into home design. Professional kitchens are the ultimate in practicality. They are designed to take tons of use and abuse, and are full of effective and beautiful components you can bring home.
KitchenLab Design | Rebekah Zaveloff Interiors
1. Professional worktable. This kitchen is the first one I remember seeing that had a commercial kitchen worktable worked into an eclectic cottage design. The table serves as worktop, peninsula and eat-in surface, and plays nicely off the serious range and vent hood.
Dehn Bloom Design
2. Open shelves of supplies. Whether in a diner or French bistro, I've admired the neat stacks of restaurant-grade bowls, plates and mugs on open shelves many times. Add home kitchen personality by accessorizing with salt and pepper shakers, a quirky timer and other small pieces you love.
Studio D – Danielle Wallinger
3. Stainless, stainless and more stainless. Here's what chefs know about stainless surfaces: They don't stain, you can plop hot pans right on them, and they are hygienic. Bacteria can seep into porous surfaces but not stainless steel.
modern house architects
The look of stainless steel is clean, professional and laboratory-like — especially when you have a giant range like this. (At the rate we're going, 16-burner stoves will be all the rage by 2020.)
PLACE architect ltd.
4. White subway tile. Classic white subway tile has taken over American kitchens during the past decade. But it has been the preferred floor-to-ceiling tile choice for romantic restaurant movie kitchens for much longer.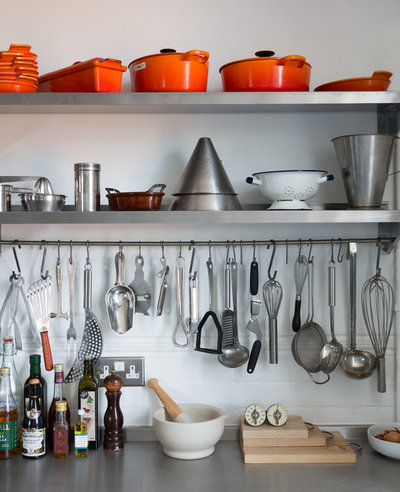 Paul Craig Photography
5. Utensil rack. Utilitarian utensil rods are a great way to keep your cooking implements handy while showing them off artfully. The orange enamel cookware on the top shelf adds bright color to an otherwise neutral palette.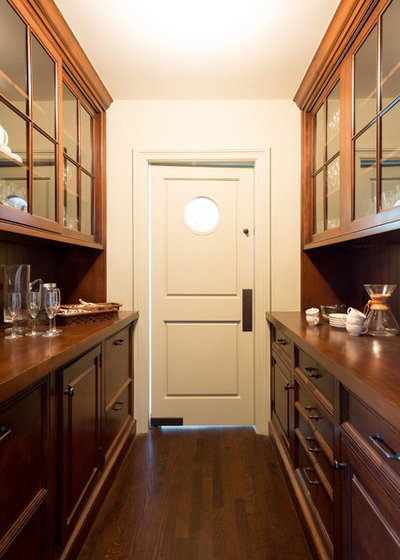 KellyBaron
6. Service door. A service door with a porthole window brings an iconic restaurant element home. (Though it's unlikely you'll need one to prevent servers with full trays from crashes involving open doors.) A good spot for it is between a kitchen and a butler's pantry, as seen here, or between either of those rooms and the dining room.
Tim Barber Ltd Architecture
Here's a lovely example of how a door with a porthole window can add style to the dining room.
Pursley Dixon Architecture
7. Rolling butcher block cart. This is a hefty piece of butcher block that contrasts with the clean, shiny stainless steel base of the cart below. Crafting a custom space for it next to the range was a brilliant stroke. Whoever is doing the food prep can roll it out wherever needed.
Kara Mann Design LLC
8. Marble-topped island. You can practically smell the chocolate croissants and espresso when you look at a French bakery-inspired marble-topped worktable like this one. They are so handy for rolling out pie crusts and other baking tasks.
Tobi Fairley Interior Design
9. Heat lamp-style lights. No, the pendant lights over the island aren't really heat lamps. But you may have noticed that this popular style appears to have stolen its form and shiny finishes from them.
Farrow Arcaro Design
10. Commercial kitchen shelving. These units, which you can find at restaurant supply stores, are sturdy and sized right for items like large cereal boxes, cookware and small appliances.
11. Oversize vent hood. Ironically, the large industrial vent hood spanning the alcove in this kitchen makes the space feel less like a kitchen than it might otherwise — a desirable goal if you have an open floor plan. If a chimney hood had been placed over just the range, it would have chopped up the design. Instead, there's an elegant uninterrupted backsplash topped by a streamlined vent hood.
Incorporated
12. Faucet with integrated spray nozzle. If you are a big cook, you have a lot of big cleanups to do. This easy-to-grab sprayer is a huge help.
Melander Architects, Inc.
13. Utilitarian commercial sink. These are for cooks who need serious space for serious cleanups. Their separate compartments are handy, and the look and scale of these pieces fit well with large open floor plans and loft architecture.
LMT Architecture LLC
14. Commercial refrigerator and freezer. This is an extreme example, but if you are a big entertainer and like to see all your food without standing in front of the open refrigerator door, this could be the option for you.
Wolfe Rizor Interiors
Of course, other types of commercial-style refrigerators have gained popularity recently as well.


Watching No Reservations and drooling over the kitchens in that movie inspired the idea for this story, and now I'm hooked. I watched Chef immediately afterward and put Chocolat in my movie queue, but I want more.